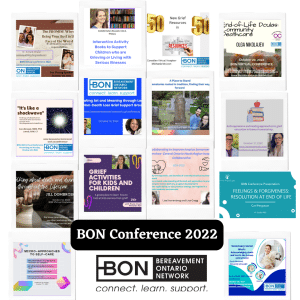 32nd Annual Fall Conference 2022
When Will It Ever End? When Grief Changes who We are…and How We Grieve
From October 11 until October 29, Bereavement Ontario Network hosted our 32nd Annual Conference online!  Over these 3 weeks, we had 14 interesting, educational, engaging sessions.  We are sorry that some have missed it! The networking and learning together proved to be very valuable for those who attended.
However, all is not lost!  You have the opportunity to purchase these videos for $25 each! Choose one, or choose several – the choice is yours! Please send an email to info@bereavementontarionetwork.ca to let Brenda know which video you are paying for access to.  Once you have access, you may watch, share, download as you please. for 6 months after purchase. These videos will only be available for a limited time so do not delay!
2022 Conference Sessions:
OPENING welcome with Susan McCoy followed by Jill Dombroski- Talking about death and dying throughout the Lifespan
Cari Ferguson- Forgiveness and Feelings: Resolution at the End of Life
Michaela McLean, Canadian Virtual Hospice- "50 new grief resources in 50 minutes"
Mark Shevlock and Aisha Husseini- Creating Art and Meaning through Loss- a non-death Loss Grief Support Group
Eunice Gorman- Extraordinary experiences in dying, death and bereavement
Trish Heyes- Micro-Approaches to Self-Care
Mark Shevlock and Karima Joy- Anti-oppressive and healing approaches to grief education in times of uncertainty
Sarah Bernardi- Veterinary social Work: Acknowledging death and loss in the human-animal bond
Olga Nikolajev- End-of-Life Doulas: community deathcare
Cara Grosset- It's like a shockwave": Findings of dissertation research with bereaved people with developmental disabilities
Ceilidh Eaton-Russell, – Canadian Virtual Hospice- Interactive activity books to support children who are grieving or living with serious illnesses
Paula Coulter- Grief Activities for Children and Youth
Kate Cullen- Teenage Grief
Lisa Kronenberg and Lisa Gregg- Collaborating to improve hospice bereavement services- Central Ontario Heath Region hospice Collaborative
Natalie Proulx and Mark Richardson- A place to stand, a place to visit- your local Cemetery- uses and the history of these peaceful spaces
Richard Amaral- The PROMISE Wheel: Being your best in the face of the worst followed by Closing Remarks
PS … BON is running a promotion right now through to January 31, 2023 – If you are a new member (or have had a lapsed membership for more than one year) you can receive one video for free! Please go into our Membership tab and sign up, and then send Brenda an email with your video choice! What a great incentive to come back to BON!