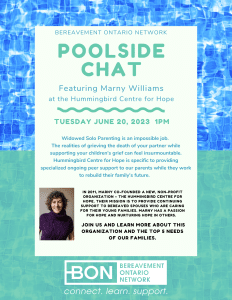 ZOOM LINK for Poolside Chat Tuesday June 20 at 1:00
Widowed Solo Parenting is an impossible job.  The realities of grieving the death of your partner while supporting your children's grief can feel insurmountable.  Hummingbird Centre for Hope is specific to providing specialized ongoing peer support to our parents while they work to rebuild their family's future. Join us and learn more about our organization and the top 5 needs of our families.
Meet Marny Williams:
In 2002, after a short six week battle with cancer, Marny's husband Keith died.  She became a widow at the age of 30 and the only parent to two children, a son 3 years and a daughter 3 months old.  In the years that passed Marny aspired to support others in their grief and has achieved education in this topic.  She is a Certified Thanatologist, holds a certificate in Grief & Bereavement from Western University and a Certificate in Children's grief.  She has been supporting grieving people for 18 years through a variety of organizations.
In 2011, Marny co-founded a new, non-profit organization – The Hummingbird Centre for Hope.  Their mission is to provide continuing support to bereaved spouses who are caring for their young families.  Marny has a passion for hope and nurturing hope in others.