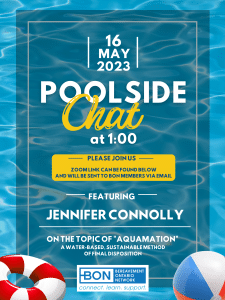 Bio:
Jennifer Connolly
Managing Funeral Director — Ontario
I began working in funeral services back in 2006. I had a natural calling to the profession and attended the Funeral Service program at Humber College. Licensed in 2008, I've been privileged to serve families throughout Ontario. My career started in traditional funeral homes and I've had the honour of caring for people throughout the most difficult moments of their lives.
I found Eirene in 2019 when I was looking for a bit of a change, I joined as their first licensed funeral director and I'm so proud to be a part of this incredible team who values transparency, compassion, and honesty. I'm thankful to be able to serve our families and provide guidance in their time of need.
Topic:
AQUAMATION:
While technical sounding, Aquamation, also known as alkaline hydrolysis, is simply a water-based method of final disposition.
A natural and safe option, Aquamation is the same process that occurs in nature when a loved one's body is laid to rest in the ground. This form of final disposition combines a gentle water flow, even temperature, and alkalinity used to accelerate the breakdown of organic materials.
Aquamation has no direct emissions of harmful greenhouse gases or mercury and requires no burning of fossil fuels.